Cloudtail India Private Limited is an online retailer, which sells variety of goods to customers in India through the online marketplace www.amazon.in. Cloudtail offers over 6 lakh products across multiple categories like Books, Media, Apparel, Shoes, Furniture, Appliances, Consumables etc., and has buying relationships with brands across the world. Some of our products include Cricket Shoes, Cricket Helmet, Bike Cover, Air Hose Pipe, Hydraullic Jack, Vacuum Cleaners, etc.
Cloudtail's parent company i.e. Prione Business Services Private Limited, is primarily engaged in the business of enabling Indian small and medium businesses (SMBs) to benefit from the fast-growing digital commerce space through awareness generation, training, consulting, advisory and value-added services like creation and management of Digital Catalogue and support in use of online tools. The services offered by Prione uplift capabilities of SMBs, which helps them, transform their earlier offline business to online. Prione is a joint venture between Catamaran and Amazon.
At Cloudtail, we believe our continued success depends on diverse workforce with varied background and experience, and we have an open-door culture for employees to support them in their transformation towards future leadership roles.


Our Products
We have two kinds of inventory available with us:
Customer Returns inventory: This includes original branded products with minor physical damages incurred during transportation and warehousing. The inventory contains a mixture of all grades of inventory.
Excess Inventory: The unsold brand new products available from some of the best brands in the industry.

Order Creation & Delivery Process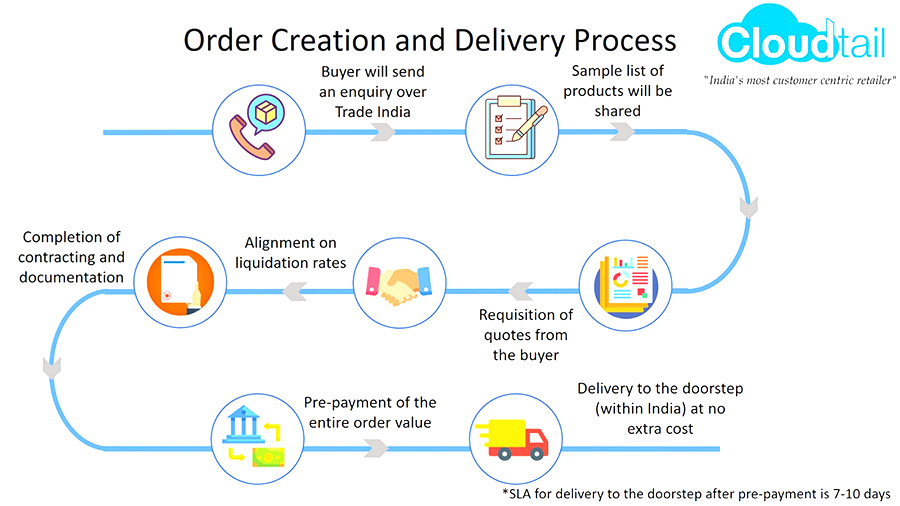 Who are eligible to partner with us?
If you are a proprietor of any liquidation/wholesale business
Business selling certified refurbished products
Business that have valid GST and PAN number

Company Details:
| | |
| --- | --- |
| Nature of Business | Wholesaler, Distributor, Supplier, Retailer, Importer & Trader |
| Year of Establishment | 2014 |
| No. of Employees | 300 |
| Import Country | Worldwide |
| Import Percentage | 10% |
| Banking Partner | HSBC Bank |
| Company Branches | 02 |
| GST No. | 29AAQCS4259Q1Z6 |
| Warehousing Facility | Yes |